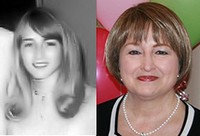 Constance Lee Clark September 10, 1952 - May 13, 2014
Constance "Connie" Lee Clark, 61, of Waco, passed away on May 13, 2014, at home after a lengthy battle with cancer. Services will be 1:30 p.m., Monday, May 19, in the chapel at Highland Baptist Church with Reverend Mark Wible officiating. Burial will follow at Waco Memorial Park. The family will receive friends 2 - 4 p.m., Sunday, May 18, at Wilkirson-Hatch-Bailey Funeral Home.
Connie was born on September 10, 1952, in Waco, to Isaac and Genoa Perry. She attended Richfield High School. Connie married David "Randy" Clark on her birthday in 1971. She went to night school for eleven years while raising her first born, David, and working full time. She walked across the stage to receive her Bachelor of Science Degree in Finance, while she was eight months pregnant with their youngest son, Christopher.
Connie loved and served God every day until the end. Connie and Randy recently moved their membership from First Baptist Waco, where they were members for over 35 years, to Highland Baptist Church. Connie was the matriarch of the family and loved spending time with them and friends, especially her sister, brother, two sons, granddaughter, and daughter in-law. Connie's granddaughter, Abby, was the light of her life. Connie never met a person she did not like, and there was never a person who talked to her that walked away without liking and admiring her. She lit up the room when she entered. She was always a very positive person and found good in people and in things that would happen on a daily basis.
Connie and Randy loved to travel during their 43 wonderful years together. They made almost 20 trips to Disney World where they fell in love with Mickey Mouse, and the inside of their house showed it. They got hooked on cruises on their 25th anniversary when they cruised to the southern Caribbean. They have been to nearly every port in the Caribbean plus two cruises to Alaska. They also traveled to attend Baylor sports functions all over the U.S.
Connie was employed at Wells Fargo Bank, her last job being Business Banking Manager. She was active in the Waco community, serving on boards such as United Way, Girl Scouts of America, Baylor Waco Foundation, and various other non-profit organizations. Connie supported her two sons, serving on school PTAs and band booster clubs.
She was preceded in death by her father, Isaac N. Perry Jr.
Survivors include her mother, Genoa Perry of Waco; husband, Randy Clark of Waco; son, David Clark, Jr., and friend, Linzi Bagby, of Waco; son, Chris Clark and his wife, Christiana, and their beautiful daughter, Abigail, of Dallas; sister, Stephanie Lyster and her husband, Johnny, of Waco; and brother, Steven Perry and his wife, Joann, of Waco.
__________________________
From Connie's Profile:
Though I attended Richfield, I continued to stay in close contact with my many wonderful friends from North Junior who went to Waco High. Great memories of my North Junior friends included nights at Northern Little League and getting together with the Northern All Stars. I also loved being a cheerleader at North Jr., and enjoyed all of the events we attended. I cherished winning the Citizenship Award. We had so many fun times visiting in each other's homes and going to both Waco High and Richfield football games. I was always involved in church and enjoyed being involved with Young Life.