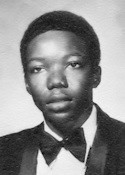 You can leave your own memories of Anderson by using the 'Post Comment' button at the bottom of this page.
From Chuck Olsen:
When trying to contact Anderson Bailey, I found that he lived in VA. I traced him To Woodbridge where he apparently died in 2008. Further went to the Social Security Death Index and verified.
Obituary:
Anderson Bailey, Jr., age 55, of Woodbridge, VA passed away Friday August 1, 2008. He was the husband of Sylvia Bailey.