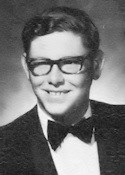 Clifford Neal Good passed away on Friday, January 18, 2008.
Clifford was a resident of Fort Worth, Texas at the time of his passing.
He is survived by his wife Virginia.
Graveside service: 1:30 p.m. Wednesday in D-FW National Cemetery, Dallas.
Visitation: 6 to 8 p.m. Tuesday at Davis Funeral Chapel, Fort Worth.
If you want to add your memories of Cliff, please add a memory comment by using the 'Post Comment' button at the bottom of this page. or send an email by clicking on 'Contact Us' in the navigation bar at the top of this page.